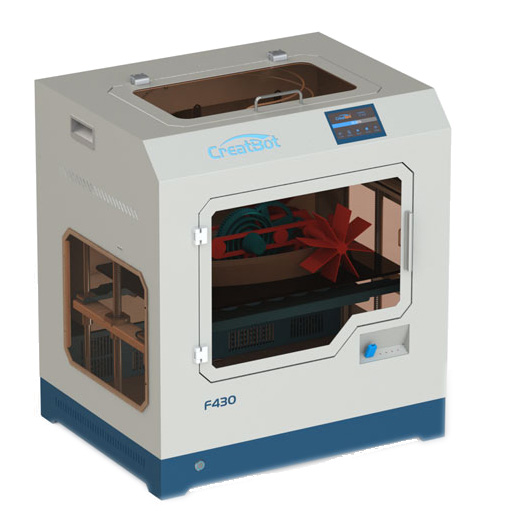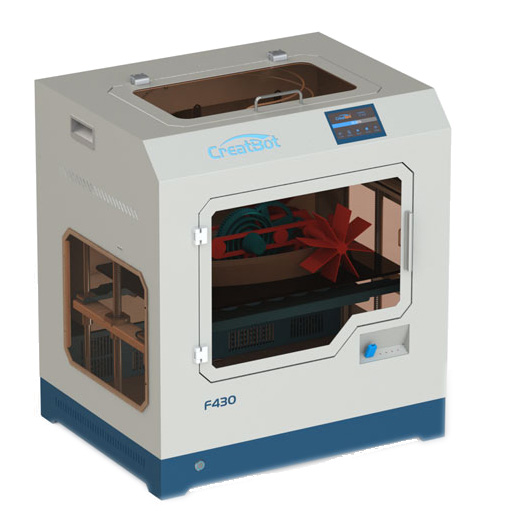 CreatBot F430
599,999
Taxes Included | Free Shipping
The CreatBot F430 is a low cost high temperature 3D printer for additive manufacturing with PEEK filament and other high performance materials that require high extrusion temperatures. Use it to process industrial filament with an extruder temperature of up to 420 ° C and a maximum installation space temperature of 70 °C
---
---
CreatBot is one of the first manufacturers to launch truly affordable 420 °C high temperature 3D printers. The CreatBot F430 is equipped with a double extruder. The dual extruder enables 3D printing with a variety of different filaments. Produce components with a wide range of material properties. To optimize the 3D printing results, you can fine-tune the nozzle and select the perfect setting.
Benefit from a precise industrial extruder guidance system. With this you can produce super precise and exact components. During the entire Additive Manufacturing process, the extruder runs smoothly and very evenly. The maximum production accuracy is up to 0.04 mm. 3D print and extrude filaments with the CreatBot F430 evenly and with minimal clogging of the nozzle.
Use this high temperature 3D printer for many years. The solid metal frame of the CreatBot F430 extends its life significantly. The optimization and collaboration of all system components ensure sustainable and efficient operation. The first series of CreatBot 3D printers have been working reliably for over 5 years and more than 8000 hours.
Thanks to the completely enclosed installation space, you can also process materials that have a strong tendency to warp (ABS, nylon, PC, PP, ...). The closed high temperature construction chamber keeps all external influences away, the chamber temperature constant and greatly reduces noise. The sealed hot chamber ensures a constant room temperature so that your model does not deform during 3D printing.
| | |
| --- | --- |
| Usable Filament Diameter : | 1,75 mm |
| Nozzle Temperatur Max : | 420 °C |
| Open Filament System : | Yes |
| Extruder Typ : | direct drive |
| Printing Speed Max : | 180 mm/s (depends on material) |
| Build Area : | 300 mm x 400 mm x 300 mm |
| Dual Build Area : | 300 mm x 400 mm x 300 mm |
| Heated Build Plate : | Yes |
CreatBot

3D Printer

White