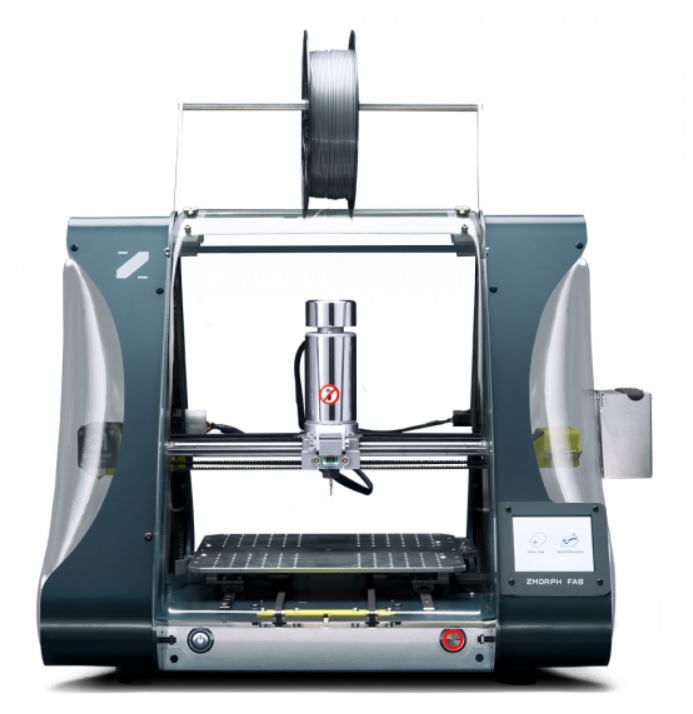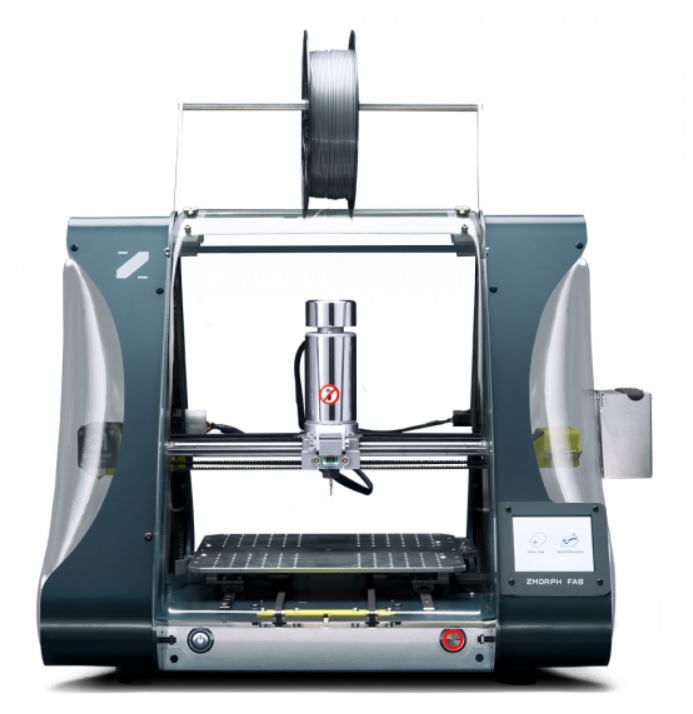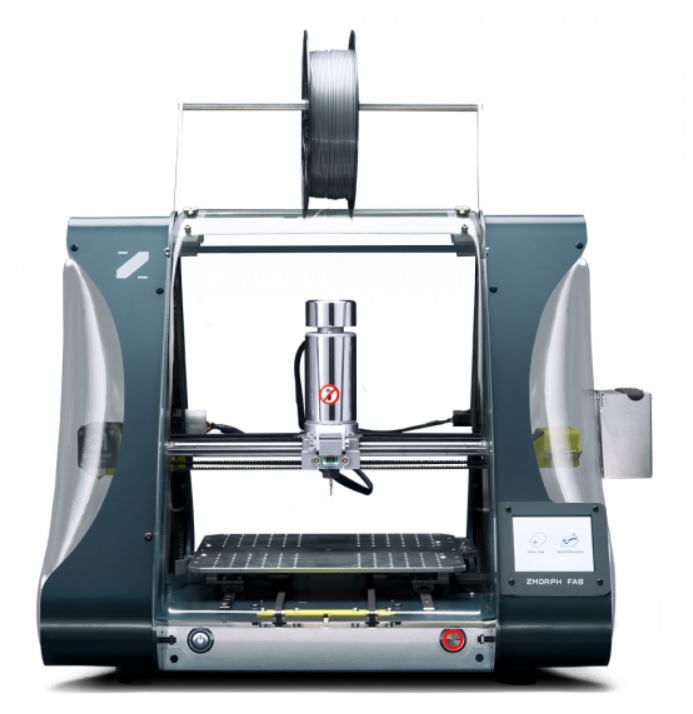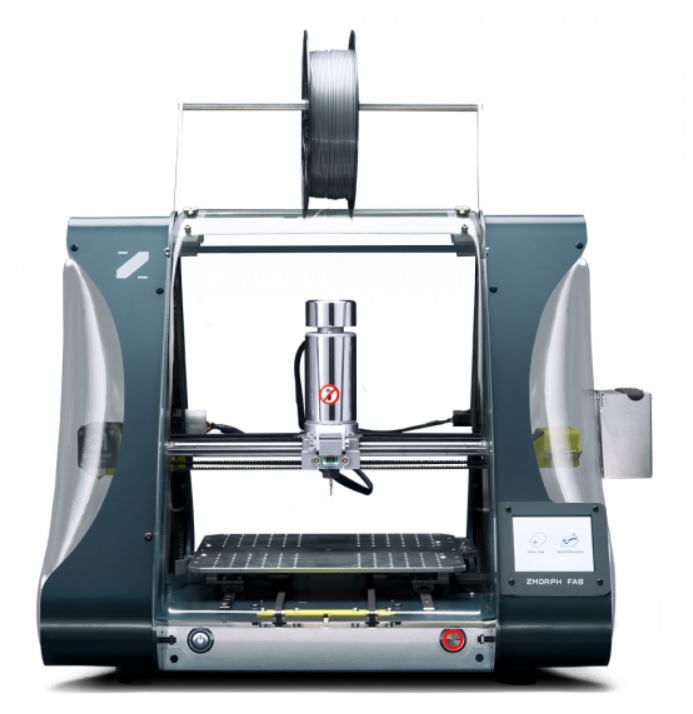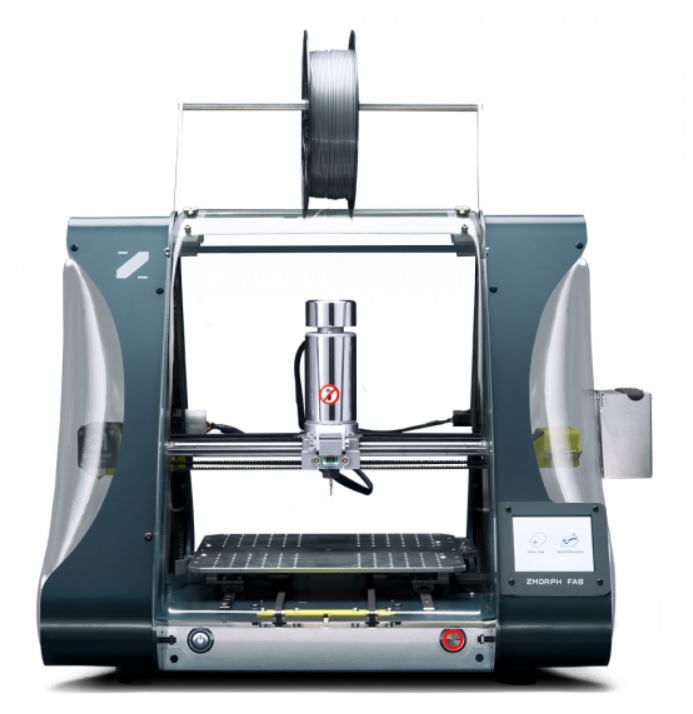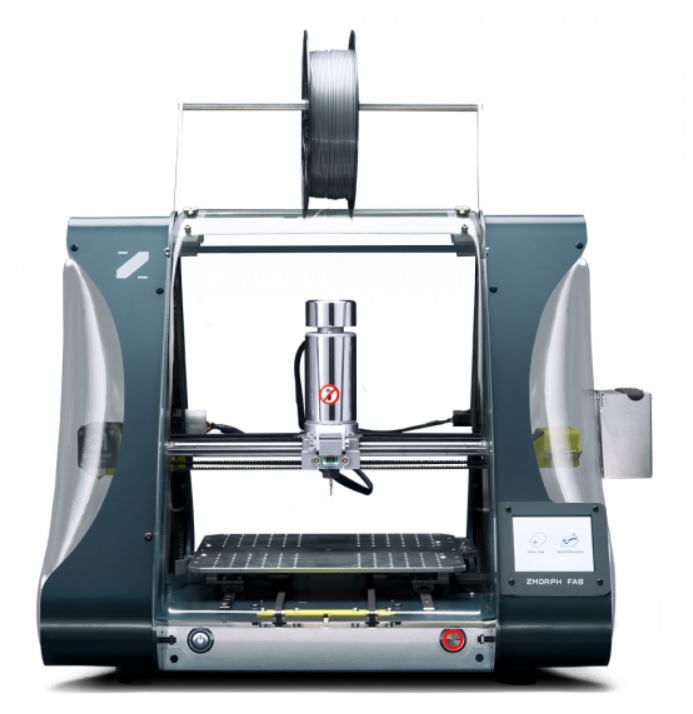 ZMORPH FAB TWO IN ONE
245,499
Taxes Included | Free Shipping
Two Tools in One Device for Learning and Prototyping:_ Turn your desk into a workshop with Zmorph Fab Two-in-One 3D Printer. The interchangeable tool heads system and a wide variety of compatible materials make it the most versatile desktop 3D printer on the market. Read further to learn about all its features and functions.
---
---
Hassle-Free 3D Printing:_ The new Single Extruder Toolhead features filament sensor for easier maintenance, and improved airflow for faster overhangs 3D printing. Autocalibration makes 3D printing easy and fast, even for beginners. Super-flat borosilicate 3D printing bed heats up to 115°C, which improves the first layer adhesion in more advanced materials such as ABS or TPE. Zmorph Fab works with almost every plastic filament available on the market. Multi-material capabilities let you 3D print with water-soluble supports.
Precise CNC Milling for Professionals:_ Heavy-duty aluminum plates provide amazing rigidity and keep electronics safe from dust and leftovers from CNC machining. The sturdy construction is designed to deliver both 3D printing and withstand CNC operations. Reinforced Cartesian XZ-head motion system doubled up with dual glass-fiber-reinforced belts. Support for a wide variety of engineering materials - wood, composites, soft plastics, even soft metals. The all-new CNC worktable offers a convenient materials mounting system, great stability, and is open for custom user designs.
Lots of Reasons in One Device :_
CNC Environment - Zmorph Fab is equipped with a professional CNC worktable with a simple solution for materials mounting. The software features CAM-standard workflow for CNC procedures with STEP operations, ability to change the tool within one G-code, and path visualisation.
Seamless UI - Accessible and intuitive user interface is designed for both professionals and first timers. Effortlessly maneuver through the menu.
Voxelizer -The all-in-one software for 3D printing, CNC milling, and cutting. Voxelizer has an optimized workflow for Zmorph 3D printers ensuring the best and fastest results.
SMART Toolheads - Changing workflows in Zmorph Fab is fast and easy with the automatic toolhead detection. Switching tools takes just a few easy steps and no more than a minute.
Quiet Work - Behind the quiet work stands the design of the 3D printer enhanced by high-quality electronics and carefully programmed drivers.
Air Filtration - Removable Carbon/HEPA filters disintegrate semi-toxic fumes and particles released by melted filaments during 3D printing and during laser engraving. Zmorph Fab will let you
know when the filters need to be changed.
| | |
| --- | --- |
| 3D PRINTING : | |
| 3D printing technology : | FFF (Fused Filament Fabrication) |
| Toolheads : | Single Extruder Toolhead 1.75, Dual Extruder Toolhead |
| Layer resolution : | 0.05 - 0.4 [mm] * |
| Maximum printing temperature : | 250 [°C] |
| Work Area : | 235 x 250 x 85 [mm] ** |
| Maximum bed temperature : | 115 [°C] |
| Minimum wall thickness : | 0.4 [mm] * |
| Dimensional accuracy : | +/- 0.2 [mm] |
| Work area leveling method : | Automatic, Manual |
| Material container : | Spool, reel |
| Material diameter : | 1.75, 3.00 [mm] |
| Nozzle diameter : | 0.3, 0.4, 0.6 [mm] |
| Support structures : | Mechanically and chemically removed - printed with the same material as the model. |
| Connectivity : | USB, Ethernet, SD card |
| Available Materials : | ABS, Nylon, HDPE, PTFE, PC, PP, POM, PMMA, PVC, HIPS, LDPE, PET, |
| Work speed : | 0.1 ~ 20 [mm/s] |
| Travel speed : | 120 [mm/s] |
| : | |
| CNC MILLING : | _ |
| Tool head : | CNC spindle |
| Spindle max power : | 300 [W] |
| Noise : | 70 [dB] |
| Work area leveling method : | Manual. |
| Work Area : | 235 x 250 x 85 [mm] |
| Work speed : | 0.1 ~ 20 [mm/s] |
| Travel speed : | 120 [mm/s] |
| Available Materials : | ABS, Nylon, HDPE, PTFE, PC, PP, POM, PMMA, PVC, HIPS, LDPE, PET, Carbon, CCL FR4, Dibond, TCF, Wood, Wood-like, Aluminum, Brass, Copper, Cardboard, Wax, Modeling board, Styrodur Carbon, CCL FR4, Dibond, TCF, Wood, Wood-like, Aluminum, Brass, Copper, Cardboard, Wax, Modeling board, Styrodur. |
| Tool holding : | ER-11 collet. |
| : | |
| WEIGHT AND PHYSICAL DIMENSIONS : | _ |
| Printer without a spool holder : | 520 x 500 x 450 [mm] |
| Printer with a spool holder : | 520 x 500 x 570 [mm] |
| Printer with a HEPA filter : | 570 x 500 x 570 [mm] |
| Dimensions of the transport box : | 600 x 600 x 570 [mm] |
| Full set weight : | 28.70 [kg] |
| Printer weight : | 14.45 [kg] |
| Single Extruder Toolhead 1.75 weight : | 0.70 [kg] |
| Dual Extruder Toolhead : | 1.00 [kg] |
| CNC Milling Toolhead : | 0.90 [kg] |
| Thick Paste Extruder Toolhead : | 0.60 [kg]. |
| ELECTRICAL PARAMETERS : | _ |
| AC Input : | 100 [VAC] ~ 4 [A] 50/60 [Hz] / 240 [VAC] ~ 2 [A] 50/60 [Hz] |
| Maximum Power Consumption : | 350 [W] |
| Power Consumption with single-head extruder : | 220 [W] |
| Power Consumption with Dual-head extruder : | 230 [W] |
| Power Consumption with CNC Toolhead : | 330 [W]. |
| SOFTWARE : | _ |
| Software Bundle : | Voxelizer |
| Supported File Types : | .stl, .obj, .step, .dxf, .png, .bmp |
| Supported Operating Systems : | Windows 7/10 (64 bit) or higher macOS 10.13 or higher. |
| FILTRATION PARAMETERS : | _ |
| Filter type : | HEPA/Carbon |
| Ventilation power : | 1.54 [W] |
| Filter dimensions : | 80 x 80 x 25 [mm] |
| Filter system dimensions : | 85 x 85 x 50 [mm] |
| TEMPERATURE PARAMETERS : | _ |
| Ambient Operation Temperature : | 15 ~ 30 [°C] |
| Storage Temperature : | -10 ~ 40 [°C]. |