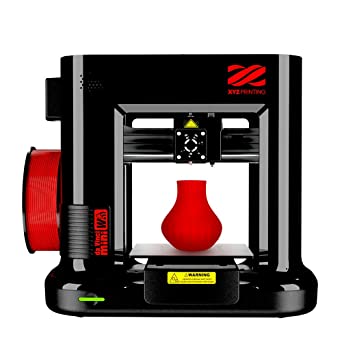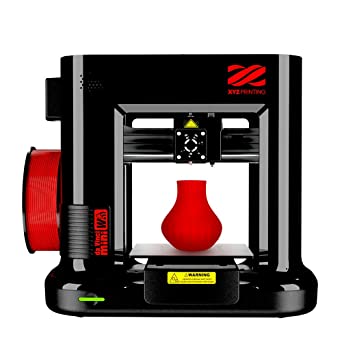 Da Vinci Mini W +
35,484
Taxes Included | Free Shipping
Connect the printer to your Home Wi-Fi and enjoy the effortless task of 3D printing remotely. Create anything from household objects to educational toys using the free design software or choose from a hoard of designs available online.
---
This Product is Out Of Stock......
---
The da Vinci mini w+ is an entry-level desktop 3D printer designed for the home. Connect it to your home wifi network and print household items or toys with your children from anywhere in your wireless network.Small Size, Big Print Volume
With a 5.9"" x 5.9"" x 5.9"" aluminum print bed, print bigger and higher quality objects on a smaller printer.
Perfect Prints First Time
Our print materials are quality checked and pre-tested so that when you print a model using our 3D software XYZprint, all the print settings have been calculated for you. Simply load your model and press print to get greats results every time.
Stress-free Maintenance
Comes fully assembled with auto-leveling software, making setup, calibration and maintenance simple.
Safe for the Home
Meeting UL、CE、FCC、VCCI、RCM standards, and using DEHP-free PLA print material, this printer has been built with safety in mind.
Wireless Printing
The da Vinci mini w can connect wirelessly to your wireless network for easy 3D printing throughout your home, office, or classroom. Use XYZmaker 3DKit, our in-house 3D design software and app, to connect to your network, prepare the files and print wirelessly.
| | |
| --- | --- |
| Technology : | FDM |
| Build Size : | 150 x 150 x 150 mm |
| Print Resolution : | 100 - 400 microns |
| Nozzle Diameters : | 0.4 mm |
| Nozzle Count : | ONE |
| Max. Nozzle Temp : | 250℃ |
| Max. Print Bed Temp : | 100℃ |
| Printing Materials : | PLA / PETG / Tough PLA / Antibacterial PLA / *Premium Metallic PLA / *XYZ Carbon Fiber (*Optional Extruder) |
| Filament Diameter : | 1.75mm |
| XY-axis Precision : | 12.5 micron |
| Z-axis Precision : | 0.001 mm |
| Max Print Speed : | Max. 120 mm/s |
| Auto Levelling : | YES |
| Print Bed Removeable : | NA |
| Supported files : | .stl, .3mf, .obj, .igs, .stp, .ply, .amf, XYZ Format (.3w), .nkg(.stl) |
| Camera : | NA |
| Connectivity : | USB 2.0 Cable |
| Machine size : | 390 x 335 x 360 mm |
| Machine weight : | 7 kg |
| : | |
XYZ Printing

3D Printer

Black

Type D