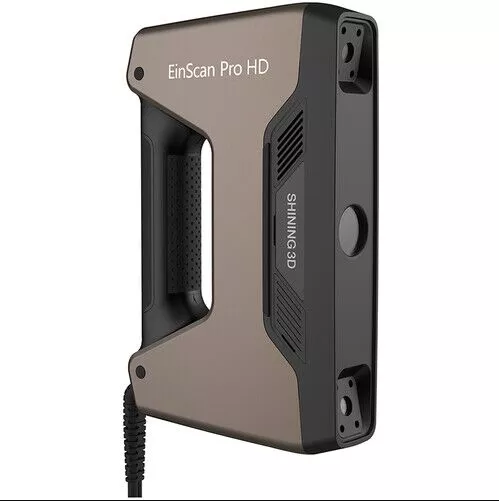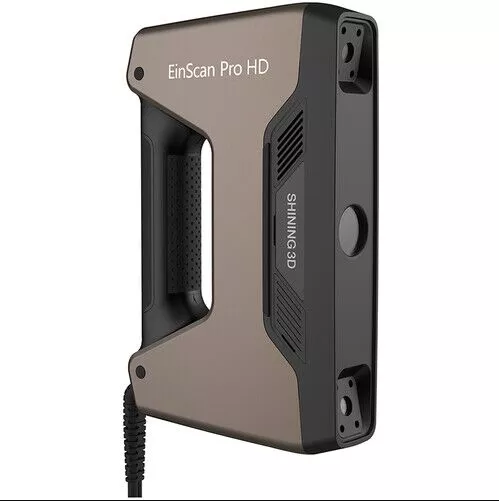 EinScan Pro HD
1,200,000
Taxes Included | Free Shipping
The EinScan Pro HD inherited the multi-functional and modular design of the EinScan Pro series handheld 3D scanner. The 3D scanner delivers unparalleled performance in capturing high resolution and accuracy by handheld scanning. Exceptional versatility and powerful optimizations come together for the ultimate high-efficiency and professional-grade 3D scanning experience. It is a reliable assistant for designers and engineers who care about high quality 3D modeling.
---
This Product is Out Of Stock......
---
Impressive High Resolution for Fine Details
By adopting a new structure light projection module, the stripe pattern scanning which was traditionally used in Fixed Scan Mode is now utilized to Handheld HD Scan Mode. With 0.2mm minimum point distance setting and optimized algorithm, brings high resolution and accuracy in handheld scanning as good as when using fixed scan.
Less Limitations of Scan Objects
With new lighting projection hardware and software algorithm, the EinScan Pro HD is capable to scan a wider range of objects of dark or black color and casting metal surface, enriching the capability for 3D scanning of materials.
Fast Scanning Speed and Data Transmission
EinScan Pro HD has a dramatic breakthrough in scanning capability, processing up to 3,000,000 points per second under handheld scan mode, and less than 0.5s for every single frame in Fixed Scan Mode. USB 3.0 provides high speed data transmission.
High Accuracy for High Quality 3D Modeling
With multiple positioning methods, both scanner or object can be moved during scanning. It delivers accuracy up to 0.04 mm in Fixed Scan Mode. Under handheld scanning mode by marker alignment, the volumetric accuracy is up to 0.045mm+0.3mm/m.
| | |
| --- | --- |
| Machine : | |
| 394x406x755 mm : | |
| : | |
| Weight : | |
| About 30 kg : | |
| Build Envelope (X, Y, Z) : | |
| 133x81x180mm : | |
| Print Speed : | |
| 40 mm/h* : | |
| XY Resolution : | |
| 75μm : | |
| Light Source : | |
| LED : | |
| Interface USB / Ethernet / Wi-fi : | |
| Material Option : | |
| Open and compatible with third party resin materials : | |
Shinning 3D

3D Scanner

Type D