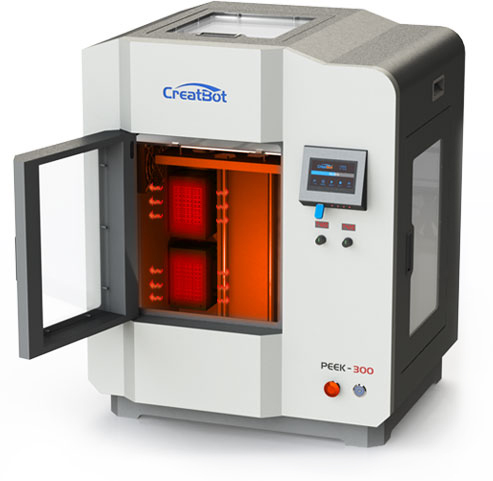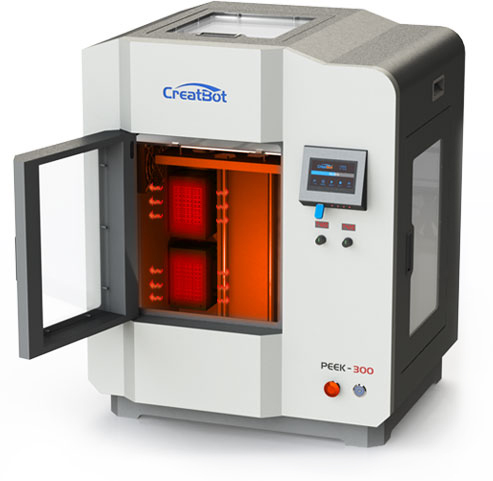 CreatBot PEEK 300 with spareparts
1,999,999
Taxes Included | Free Shipping
The Creatbot PEEK-300 is an FDM industrial 3D printer designed for printing with professional-grade materials, including PEEK and Ultem. It is equipped with engineering-grade components capable of withstanding high printing temperatures. Specifically, this dual extruder 3D printer sports ultra-high-temperature nozzles (500°C), a hot build chamber, a heated print bed, and high-temperature resistant motors, rails and belts. Thats why it ensures long-lasting, reliable performance over time. Despite its advanced features, it is sold at an affordable price for almost any company and organization.
---
This Product is Out Of Stock......
---
The CreatBot PEEK-300 is a new industrial grade 3D Printer that puts full focus on high performance materials such as PEEK and PEI.
The printer is designed for high reliability and economical 3D printing of high-performance functional materials.
The PEEK-300 has an impressive build space of 300x300x400 mm. To be able to print PEEK in this size is very good.
The PEEK-300 extruders include an intelligent cooling system. This ensures that the filament is feeding at the optimal temperature all the time. The height adjustable nozzles allow you to align your two nozzles very quick and easy. Perfect when you want to 3D print with support, varied materials or just two colors. All CreatBots from 3D Prima come with dual extruders as standard.
The cooling system is one of the most important components in a printer, and even more so in a printer that can reach high temperatures. PEEK-300 has a newly developed liquid cooling system makes the water circulate withing the hot-end and keeps it at optimal temperature.
| | |
| --- | --- |
| Usable Filament Diameter : | 1,75 mm |
| Nozzle Temperatur Max : | 500 °C |
| Open Filament System : | Yes |
| Extruder Typ : | direct drive |
| Printing Speed Max : | 150 mm/s (depends on material) |
| Build Area : | 300 mm x 300 mm x 400 mm |
| Dual Build Area : | 300 mm x 300 mm x 400 mm |
| Heated Build Plate : | Yes |
CreatBot

3D Printer

100.00 KG