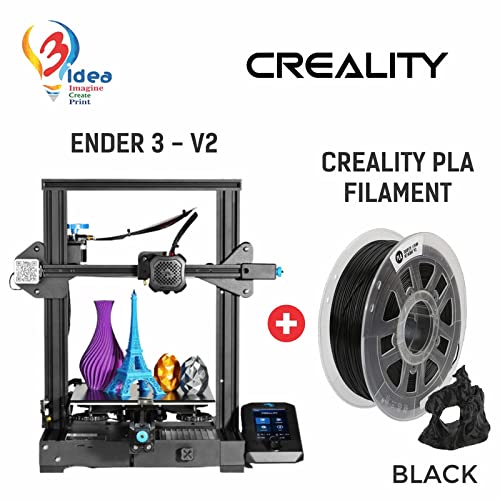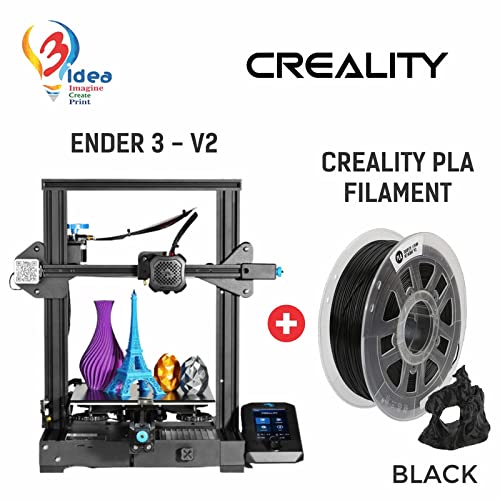 Ender-3 V2 + Creality PLA Black
23,298
Taxes Included | Free Shipping
The Creality Ender -3 v2 is the perfect 3D printer for Beginners. This third version defines a new era in popularizing 3D printers to the masses. Creality have enhanced the printer capability to appeal to a wide array of audience. Upgraded X & Y axis belt tensioners, colour screen, upgraded silent motherboard with fast bed heating. The same 220 x 220 x 250mm build volume, standard 0.4mm nozzle diameter with the ability to print most materials. Heated build surface and stable power supply. Patented V-slot precision rollers for high accuracy and quality 3D printing. SD card reader and USB input for continuous printing up to 200 hours.
---
This Product is Out Of Stock......
---
Exquisite appearance design: Creality Ender-3 V2 3D printer integrated all-metal body, inherited by its predecessor Creality Ender-3 3D printer, firm and stable. Thanks to the integrated structure and the modular structure, the power supply is hidden in the machine and is more convenient and safer for you to use.
Continue printing function: the printing function can continue printing from the last recorded extruder position after unexpected power outages, saving time and reducing filament waste.
Self-developed quiet motherboard: It has a stronger anti-interference freedom, faster and more stable movement performance, quiet printing and low decibel operation. No noise when printing. If you print the model at night, please do not worry, it will not disturb your rest.
Carborundum glass platform: Creality Ender-3 V2 3D printer with carborundum glass platform. The platform allows faster heating of the breeding ground and prints adhere better without warping. Ultra smoothness even in the first layer.
Newly designed 4.3 inch smart touch screen. A clearer and more intuitive timing significantly improves the user experience. With the tool box integrated into the machine body, the organization and storage of the tools is more convenient and faster.
| | |
| --- | --- |
| PRINTING PROPERTIES Print Size : | 220 x 220 x 250 mm- Molding Technology |
Creality

3D Printer

Black