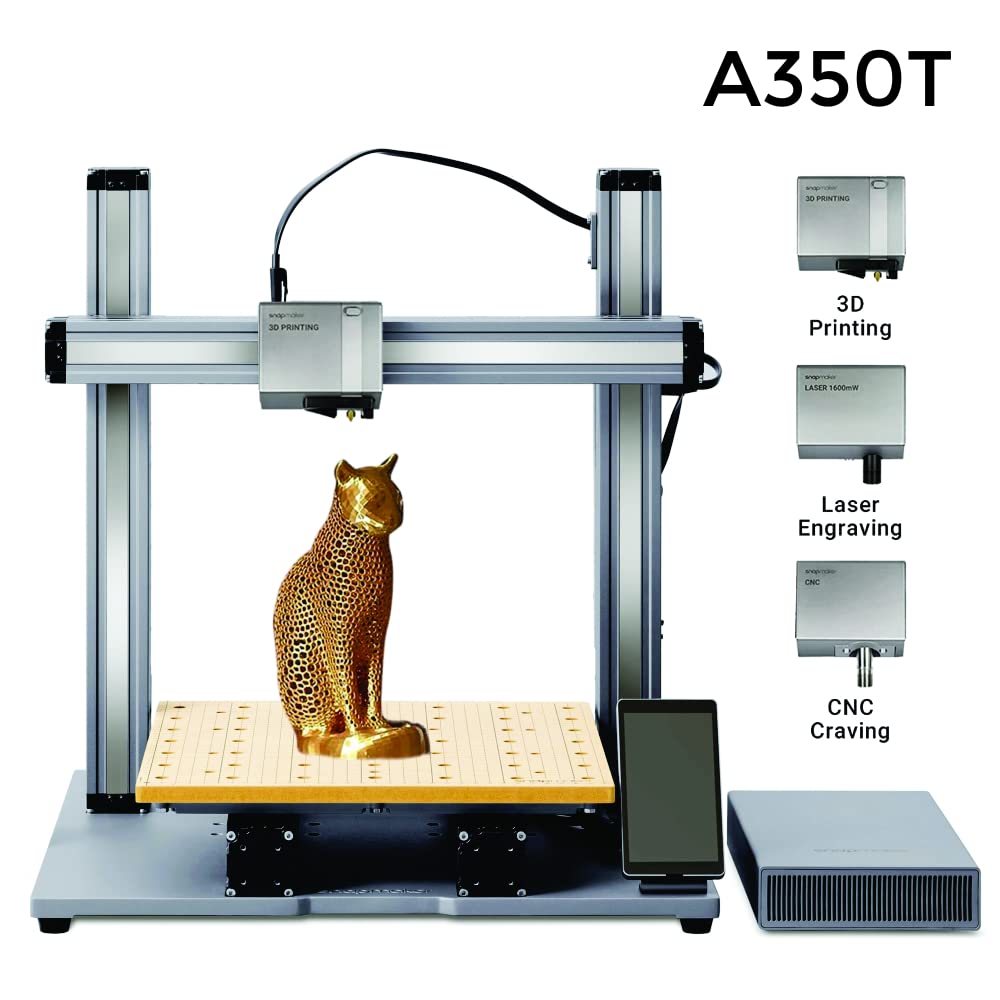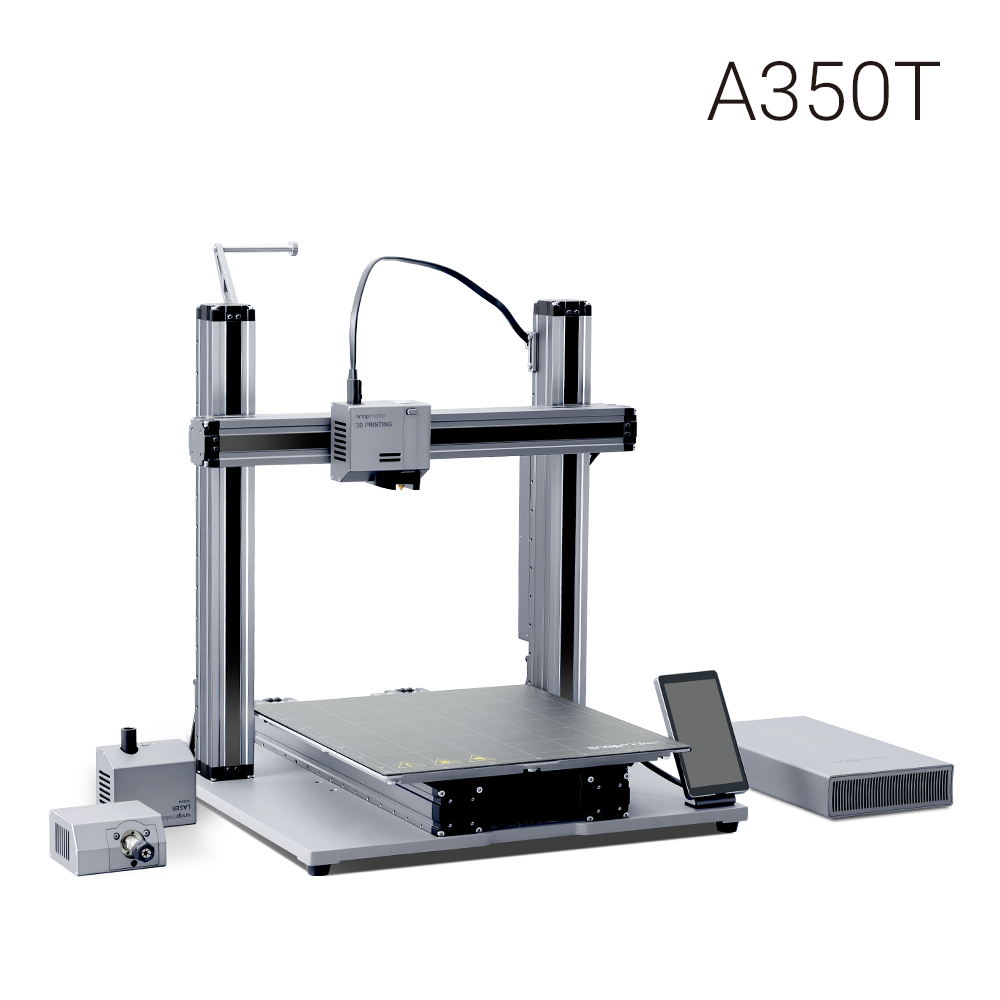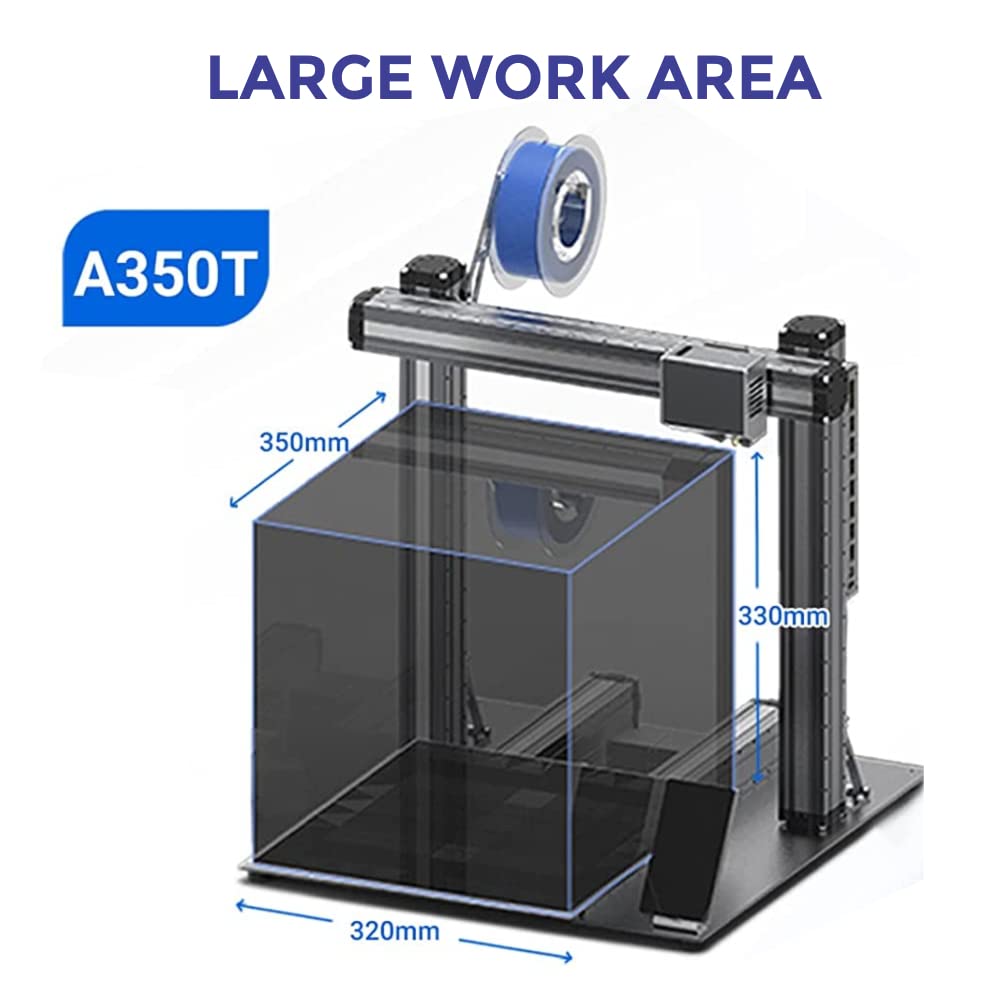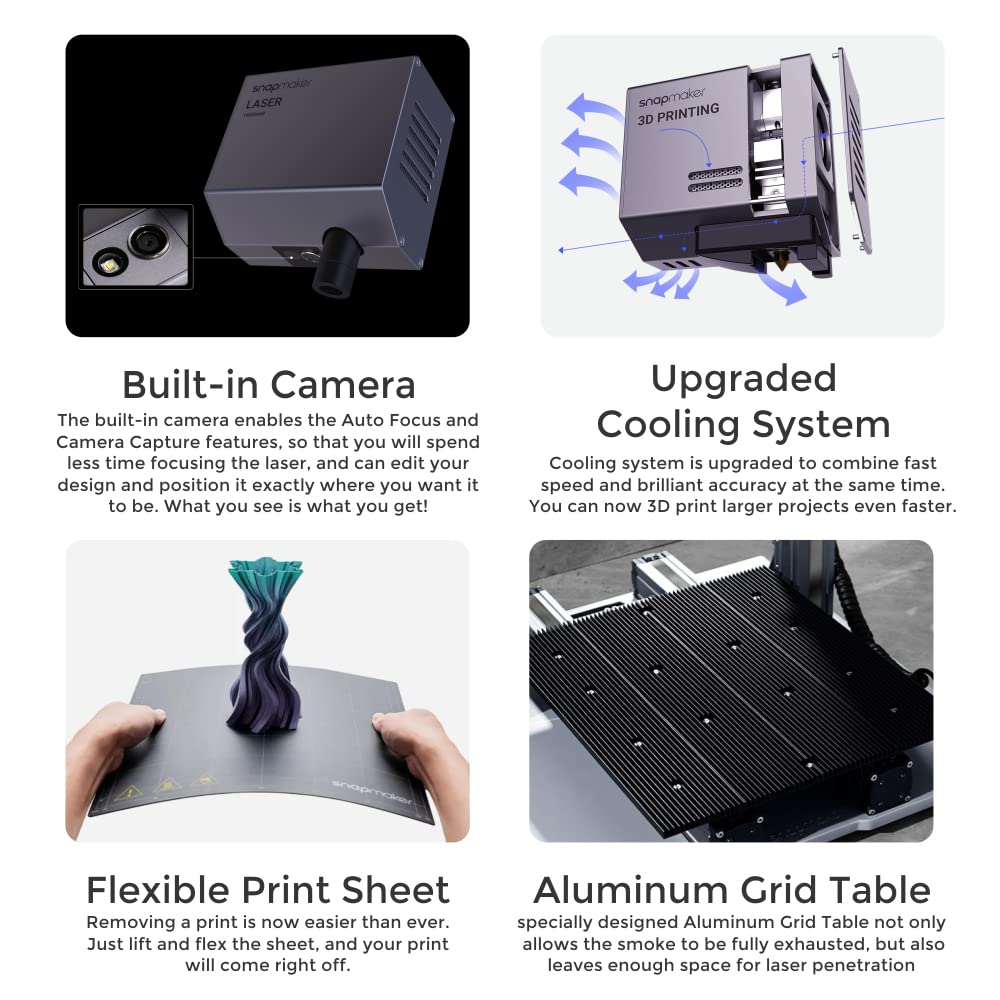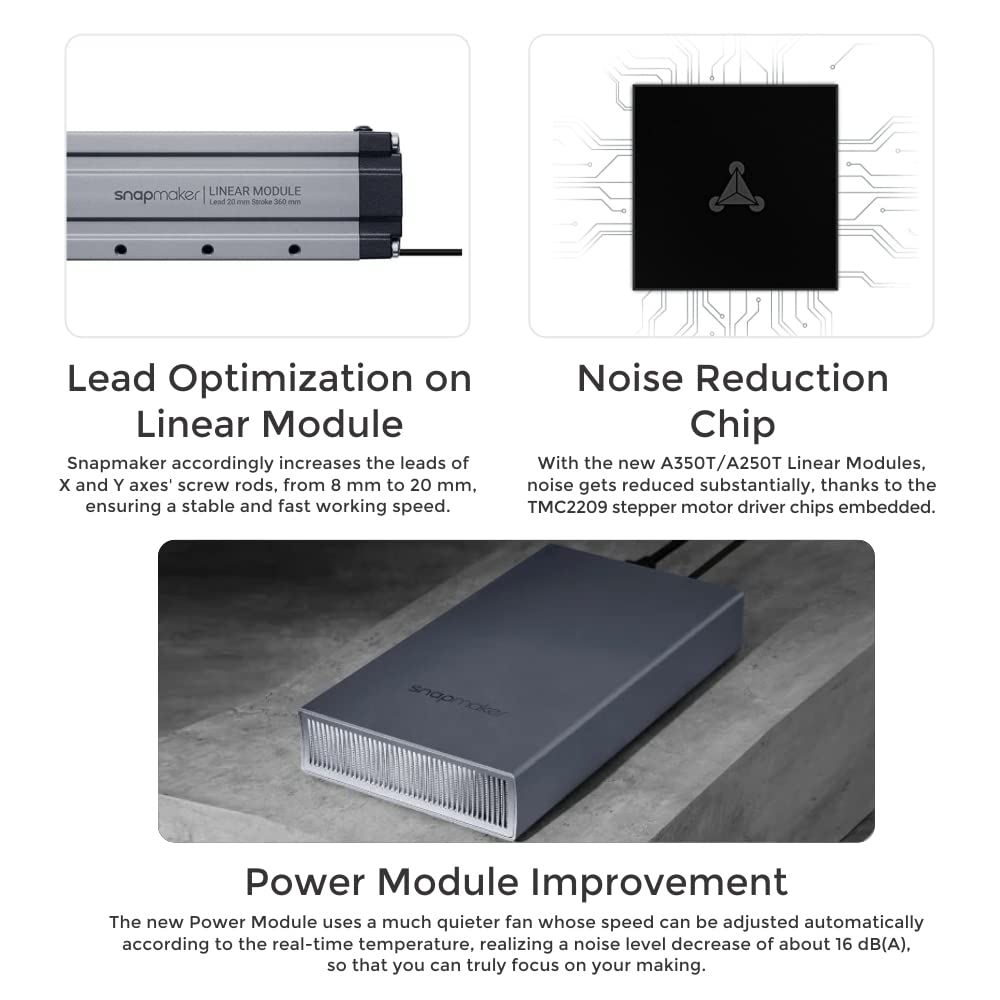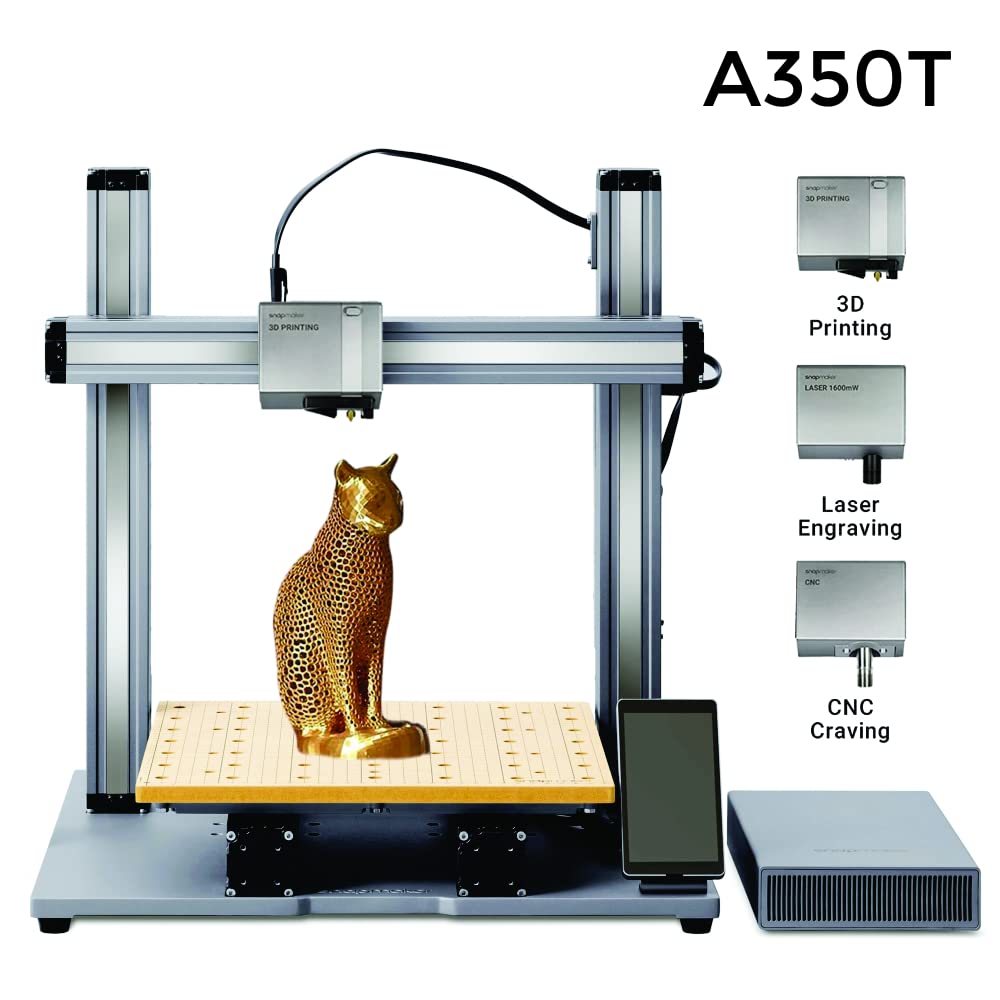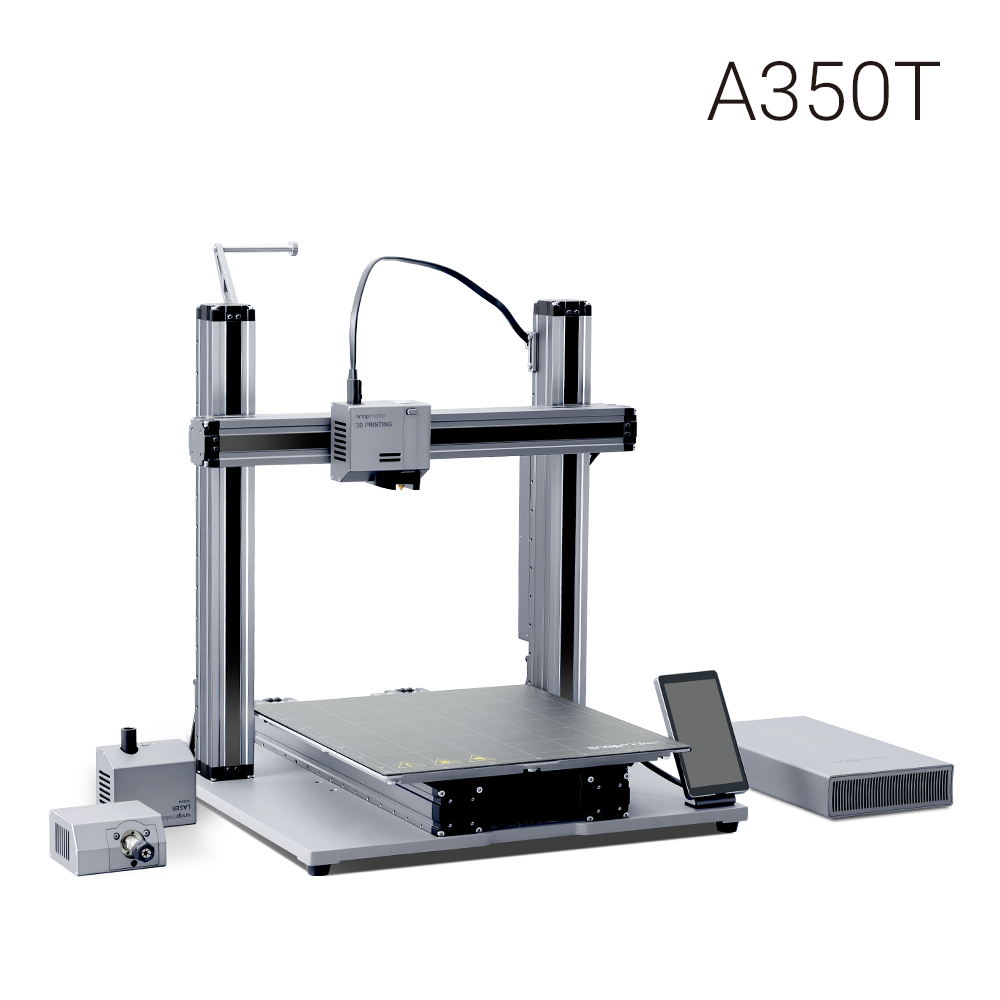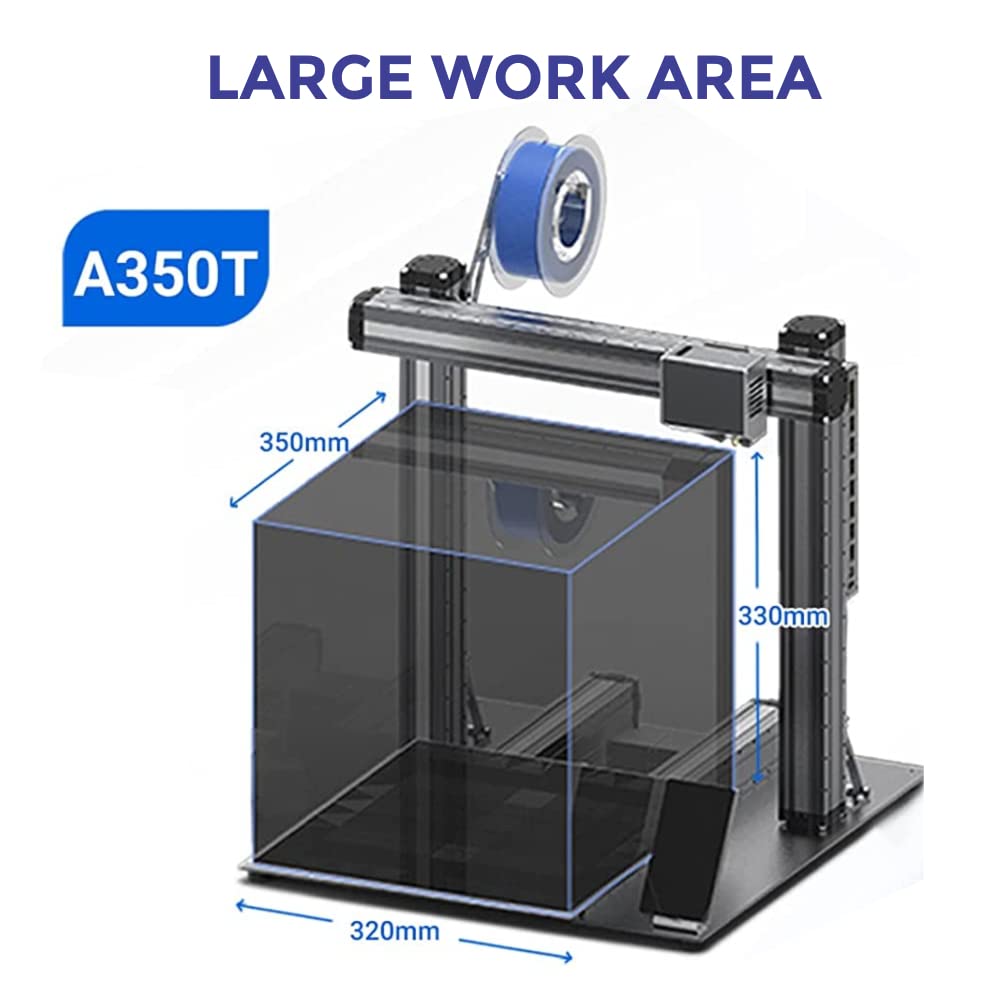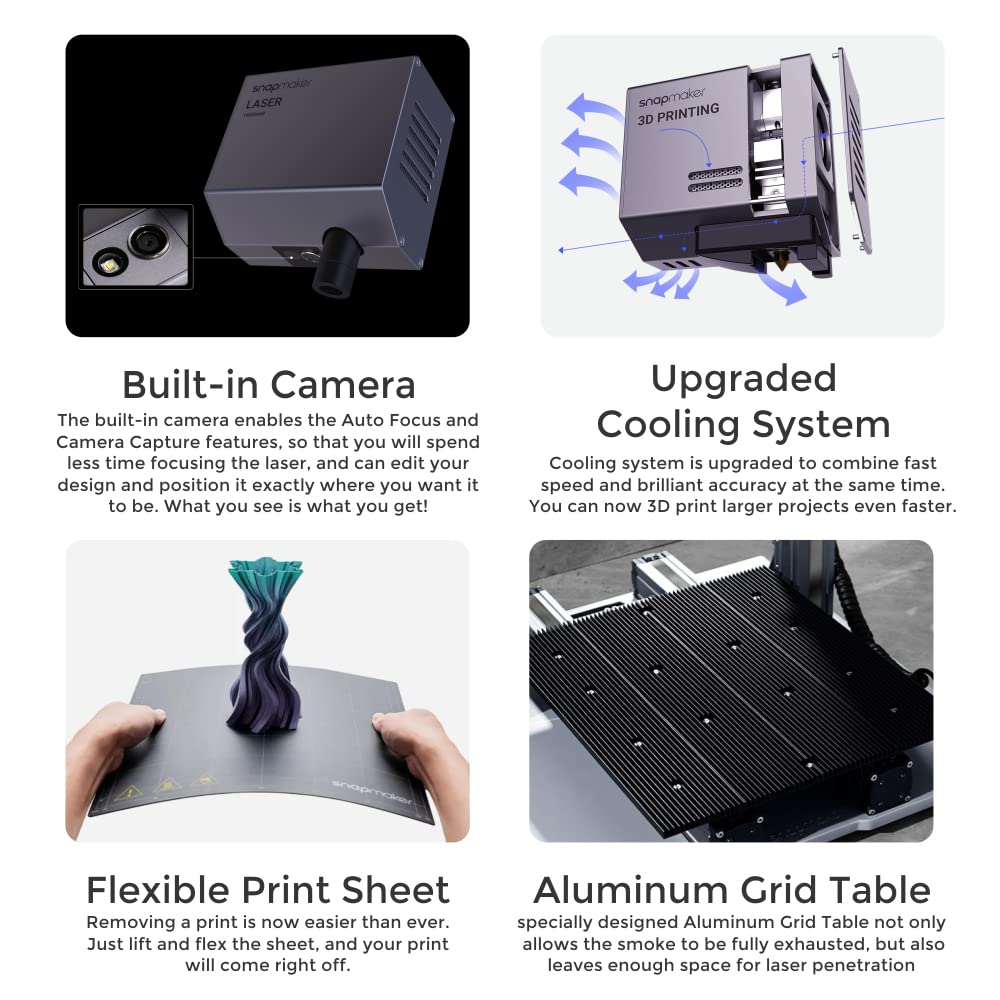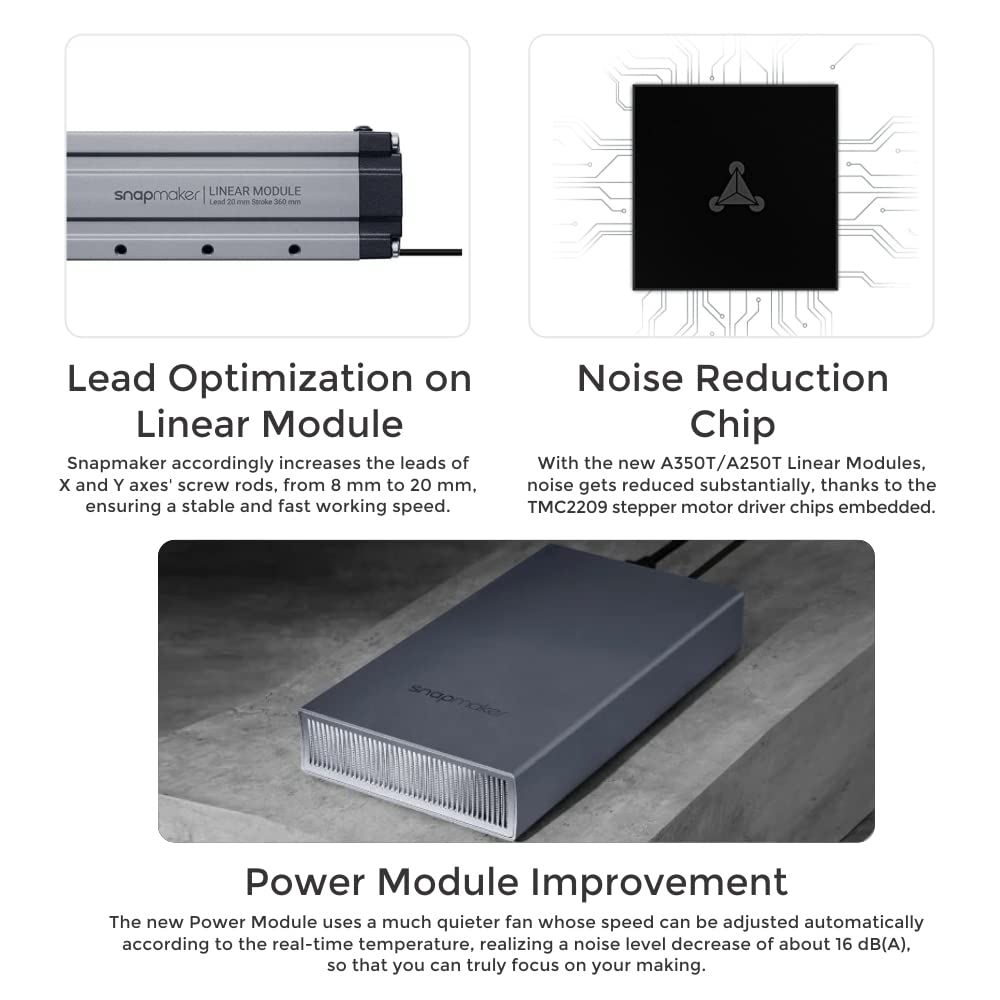 Snapmaker 2.0 A350T 3-in-1
185,000
Taxes Included | Free Shipping
All-in-One 3D printer, CNC carver, and laser engraver
3D Printing (320 x 350 x 330 mm) - PLA, ABS, PETG, TPU, wood filled PLA, etc
Laser Engraving and Cutting (320 x 350 mm) - Wood, leather, plastic, fabric, paper, non-transparent acrylic, etc
CNC Carving (320 x 350 x 275 mm) - Wood, acrylic, PCB, carbon fiber sheet, jade, etc
Auto-leveling and calibration
Modular and easy to assemble
User-friendly touchscreen interface
Compatibility with multiple materials
---
---
---
All-in-One 3D Printer, CNC Carver, and Laser Engraver: The Snapmaker A350T is a versatile machine that combines three essential tools in one compact device.
Large Build Volume: With a maximum build volume of 320 x 350 x 330 mm, the A350T offers a spacious printing area, enabling you to create bigger and more complex projects.
Auto-Leveling and Calibration: The machine is equipped with an automatic bed leveling feature, ensuring a hassle-free printing experience and optimal print quality.
Dual Z-Axis Design: The dual Z-axis design enhances stability and precision during the printing process, resulting in more accurate prints.
Modular Design: The A350T features a modular design, allowing for easy assembly and disassembly, making maintenance and upgrades more convenient.
Touchscreen Interface: The intuitive touchscreen interface provides a user-friendly experience, making it simple to navigate through menus and control various functions.
Multiple Material Compatibility: The A350T supports a wide range of materials, including PLA, ABS, PETG, wood, acrylic, and more, giving you the freedom to explore different possibilities.
Laser Engraving and CNC Carving Capabilities: With its laser engraving and CNC carving modules, the A350T enables you to engrave designs and carve intricate details on a variety of materials.
Enclosed Build Chamber: The printer comes with an enclosed build chamber, which helps maintain a stable temperature, minimizes warping, and improves print quality.
Versatile Software: The Snapmaker software provides a user-friendly interface for preparing and slicing 3D models, generating toolpaths for CNC carving, and controlling laser engraving parameters.
Community and Support: Snapmaker has an active and supportive community, providing resources, tutorials, and forums for users to share their experiences and seek assistance when needed.
| | |
| --- | --- |
| Machine Dimensions (W x D x H) : | 495 x 506 x 580 mm |
| Package Dimensions (W × D × H) : | 628 × 554× 312mm (A350T) |
| Package Weight : | 28.0kg |
| : | |
| 3D Printing work area : | 320 x 350 x 330 mm |
| Maximum bed temperature : | 80°C |
| Layer Resolution : | 50–300 microns |
| Nozzle Diameter : | 0.4 mm |
| Max Nozzle Temperature : | 275°C |
| : | |
| Laser Engraving and Cutting work area : | 320 x 350 mm |
| Camera : | Built-in camera |
| Laser Power : | 1600 mW |
| Wavelength : | 450 nm |
| Safety Class : | Class 4 |
| : | |
| CNC Carving work area : | 320 x 350 x 275 mm |
| Shank Diameter : | 0.5–6.35 mm |
| Spindle Speed : | 6,000–12,000 RPM |
Snapmaker

3D Printer

28.00 KG

Type D