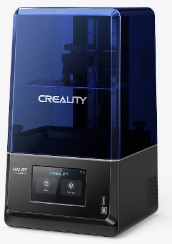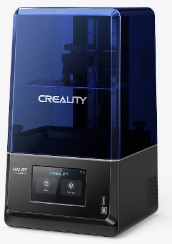 Halot One Plus
39,999
Taxes Included | Free Shipping
Creality Resin 3D Printer, HALOT ONE Plus 3D Printers with 7.9 inches 4K Mono LCD and Ultra high Printing Accuracy, Print Size 172*102*160mm. Integral light source. Strong kernel. Precision Z axis module. Efficient slicing. New generation operation system. OTA online upgrade.
---
This Product is Out Of Stock......
---
1. 7.9 inch 4K Mono LCD: Larger display, Resolution:4320*2560 (4K), 172*102*160mm build volume, vividly printing out every detail of big models
2. Creality Cloud App: Support Wi Fi, realize remote control via Creality Cloud App, cloud slicing and one click to print, achieve efficient management.
3. Excellent in Printing Micro-holders: Perfectly printing micro holders of 0.1-0.3 mm for models with complicated structures. No deformation, easy to remove, clean and cure.
4. 5 inch HD full view multi touch screen: The screen with brand new UI interface allow a clean model preview and selection. With 14 languages supported, the printer is quite comprehensible.
5. Z axis with Dual Linear Rails: Z axis with dual linear railways, together with T shape screw rod assures accurate and steady movement.
6. High Slicing Software Compatibility: Compatible with HALOT BOX Lychee and CHITUBOX, slicing with high efficiency.
| | |
| --- | --- |
| 1. Build Volume : | 172 102*160mm |
| 2. XY axis Resolution : | 4320*2560 (4K) |
| 3. XY-axis : | 0.04mm |
| 4. Layer Height : | 0.01-0.2mm |
| 5. Mono LCD : | 7.9 inches, 4K Mono LCD |
| 6. Light Source Technology : | Integral Light Source |
| 7. Z axisDual linear rails with T shape screw rod : | |
| 8. Lighting Evenness : | 90% |
| 9. Touch screen : | 5-inch HD Full view Multi touch Screen |
| 10. Data Transmission method : | USB disk, Creality Cloud,HALOT BOX WiFi |
| 11. Slicing software : | HALOT BOX, Lychee Slicer, CHITUBOX |
| 12. Others : | Air Filtration, OTA online update. |