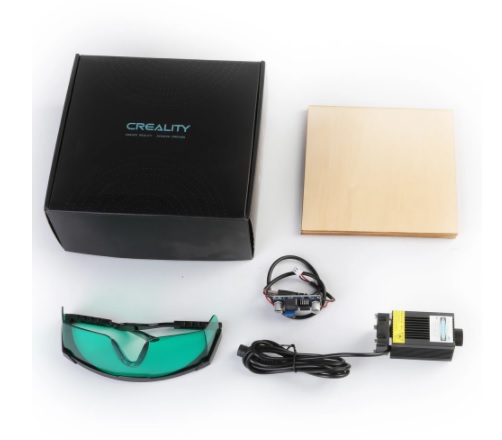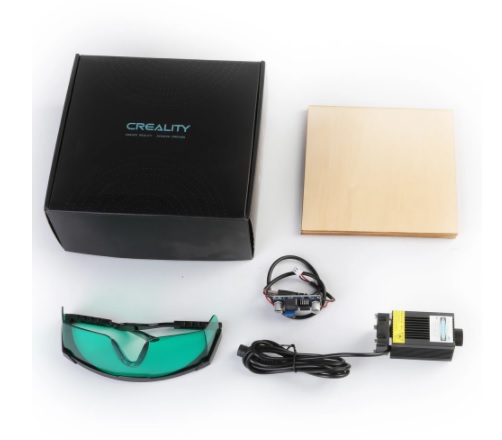 CREALITY 3D Big Power Laser Engraver Module Kit_4W
11,999
Taxes Included | Free Shipping
CREALITY 3D Big Power Laser Engraver Module Kit 4W Engraving 405nm Blue-Violet Laser Head Kit with Goggles Test Wooden Boards ✔ Efficient heat dissipation ✔ Micro laser engraving ✔ Precise spotlight ✔ Adjustable focus
---
This Product is Out Of Stock......
---
1) Big Power Laser Engraver Module Kit
i) 405nm blue-violet light spot
ii) Micro laser engraving machine
2) Companent display
i) Laser glasses
ii) Blue-violet laser head
iii) Wood
iv) Laser buck module with wire
3)Laser spot
i) Laser engraving meets your artistic dream
ii) Engravable material: wood, bamboo, some leather goods, paper, etc.
3) Genuine laser diode: As the core component of the laser module, it adopts the genuine laser diode with small size, bright and clear light large angle of light extraction and high straightness.
4) Clear and bright light spot: Due to efficiency transitivity optional system, optical lens has clear light spot little light diverges, good collimation and even brightness. Moving within 3 meters the spot is almost the same, and the positive and negative deviation is within 1 mm.
5) Adjustable focus: Rotate the head of the laser module, adjust the focus according to the working distance and module the appropriate spot size.
6) Low power consumption good heat dissipation: Three heat dissipation designs have heat dissipation low power consumption, high power output stable performance and long service life.
7) Easy to install: Handy size for easy installation.
| | |
| --- | --- |
| Product information : | |
| Product name : | Laser engraver head kit |
| Model : | 12V/24V |
| Product color : | Black |
| Technology : | 405nm blue-violet laser |