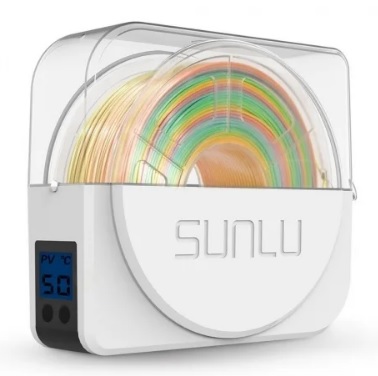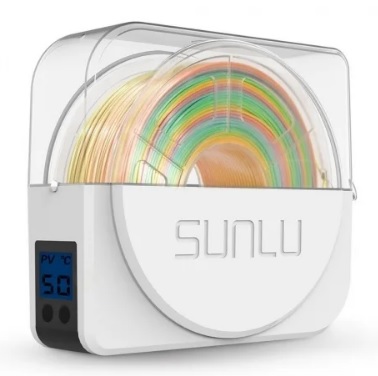 Sunlu S1 Plus Filadryer
5,149
Taxes Included | Free Shipping
The Sunlu FilaDryer S1 Plus drying system is a device that allows you to prepare anyfilamentfor printing conveniently and quickly. FilaDryer S1 Plus has been built to handle any type of material, from PLA to extremely hygroscopic materials such as BVOH andNylon, without any problems.
---
---
1. Precise control
The filament drying system is equipped with a display and two buttons that allow you to control the temperature and heating time of the material drying chamber, so we can adjust the settings for anypillar. Electronics of the device has been equipped with numerous temperature control systems, so we can be sure that the material given to the3D printer extruder will be perfectly prepared for printing and the effects will be visible at a glance.
2. Comfortable filament holder
The FilaDryer S1 Plus has been built to function as a convenient handle in addition to drying the material, so that we can print directly from the material inserted into the device, it gives great comfort. Rollers have been attached to the device to allow the spool to rotate smoothly, this ensures that there are no problems with taking up the material. The filament drying system allows drying up to two reels at the same time, and thanks to two material outputs we can use the dried material on different printers.
| | |
| --- | --- |
| Filament diameters supported: | 1.75 mm, 2.85 mm, 3.00 mm |
| Supported material types: | PLA, ABS, HIPS, NYLON, BVOH, PETG, ASA, TPU, FLEX, PP and others |
| Operating temperature: | from 35°C to 55°C |
| LCD screen size: | 2 |