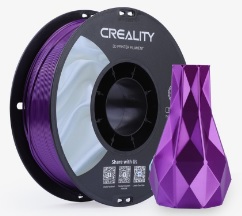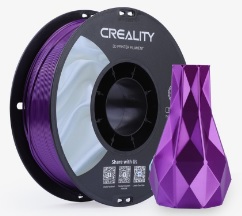 Creality Silk Filament Purple
2,699
Taxes Included | Free Shipping
High glossy and Silk texture. Smooth and Delicate Silky touch. Wide compatiblility. Neating Winding, Smooth Feeding. Metallic color.
---
---
1. High Glossy and Silk Texture: Silk like and high gloss appearance attract eye popping attention, stand out from filaments and models, enjoy a different visual feast.
2. Smooth and Delicate Silky Touch: Get the pearlescent & gorgeous printing surface without polishing, smoothy model surface with the pearly and unique touch, which brings exquisite experience.
3. Wide Compatibility: Verified by BFP Perfectly Compatible with Creality Printers And compatible with 99% FDM Printers in the market
4. Neat Winding, Smooth Feeding: Neat winding without tangle and the material is fed smoothly during printing; Reducing filament waste, saving time, and improving printing success rates.
5. Toughness Upgraded without Breakage: Professionally designed formula to improve the gloss and enhance the toughness of the filament. Repeated bending with less susceptible to breakage, no worries about printing interruption.
6. Eco-friendly and degradable materials Based on the PLA as the main material, it continues the advantages of easy molding, no warping and low shrinkage of PLA.
| | |
| --- | --- |
| Product Name : | CR-Silk Filament |
| Colour: | Purple |
| Extruder Temperature : | 190-230°C |
| Hotbed Temperature : | No heating 60°C |
| Printing Speed : | 40-100mm/s |
| Tensile Strength : | 35MPa |
| Bending Strength : | 67MPa |
| Filament Diameter : | 1.75mm |
| N.W : | 1kg/2.21b |
| G.W : | 1.29Kg/2.81b |
| Packing Size : | 210*210*70mm |
Creality

3D Filaments

Purple