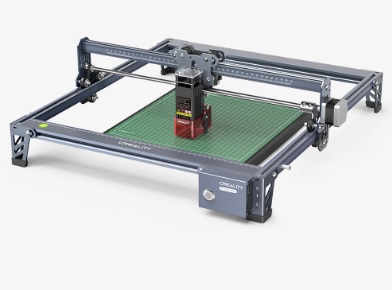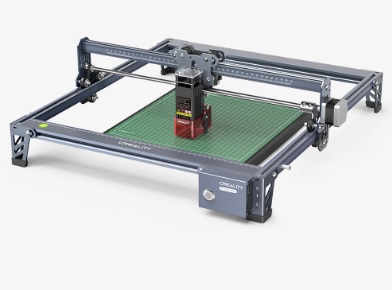 CR-Laser Falcon Engraver-5W
27,127
Taxes Included | Free Shipping
High Precise Engraving and Cutting The Laser Falcon take into account both engraving and cutting performance by adopting the poly-lens spot compressed laser technology, achieving both precision up to 0.1 mm. The spot size was compressed to 0.12*0.06 mm from 0.32*0.14 mm. In this case, the engraving accuracy and engraving speed are increased by more than 6 times. The works are finer, with less burr, flanging. It also has extraordinary cutting ability. It can cut basswood veneer of 4-5 mm, two times thicker than the original 2 mm. Easy to Use - One Button Control CR-Laser Falcon gets rid of the trouble of many controlling buttons. The glowing button not only can control the engraving or cutting process, but also can show us the working state of the machine, which enables us to identify the working mode. Quick and Accurate Starting Point Location Continuous blue light emissions from the laser head will preview the engraving or cutting area. It is convenient for you to determine whether the position is your desired engraving area. If not, you can make an adjustment. For batch engraving, you can use the auxiliary grid plate for the same working area confirmation.
---
This Product is Out Of Stock......
---
1. Health Protection
Fan with washable cotton filter effectively absorbs the smoke and dust, protecting users' respiratory system and ensuring the engraving quality with an avoidance of object blackening
2. Safer B Healthier No Goggles, But Share Joy
The laser safety protective cover meets FDA Class l safety level and can filter 90 uv light, enabling users to have a check or sharejoy without wearing goggles.
3. Create in a Balanced Way
A built-in leveler prevents from losing, and it is set for measuring whether the machine is properly placed
4. Better Conditions for Creation Durable and Stable
Anodized aluminum alloys, L-shape silicone footpads and an 8 mm steel rail ensure precision and smooth movement
5. Quick Focusing
Time-Javing and easy to handle. The focusing system is comprised of a fixed-focus lens and a focusing facilitator. Slide down the facilitator for fast focusing and uplift it once the focusing is finished.
6. Always Spot-on
Preview function for quick and accurate engraving area location. Continuous blue light emissions from the laser head will indicate the engraving area. For batch engraving, use the auxiliary grid plate for the same working area confirmation.
7. Engraving B Cutting Master
Remarkable improvements realized by the poly-lens spot compression laser technology.
| | |
| --- | --- |
| Spot Size : | O.1 mm |
| Engraving Depth : | O-3 mm |
| Cutting Thickness : | 0-5 mm |
| Laser Wavelength : | G55±5 nm |
| Optical Power : | 5w,70w |
| Engraving Precision : | 254 dpi |
| Engraving Speed : | Max. 10000 mm per min |
| Engraving Area : | 400*415 mm |
| Light Source : | Semiconductor Laser |
| lnput Voltage : | I00~220 v G7 63 Hz |
| Output Voltage : | 24V DC |
| Slicing File Format : | svg, png,Jpg,Jpeg, bmp, dxf |
| Engraving File Format : | .gcode (after slicing) |
| Support os : | Windows MacOS |
| Slicing Software : | CrealityLaser, LaserGRBL, LightBurn |
| Applicable Materials : | cardboard, wood, bamboo clappers, rubber plate, leather, fabric, acrylic, plastic, metal |
Creality

Laser Engraver

Silver