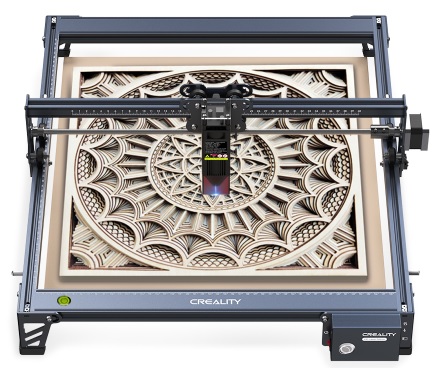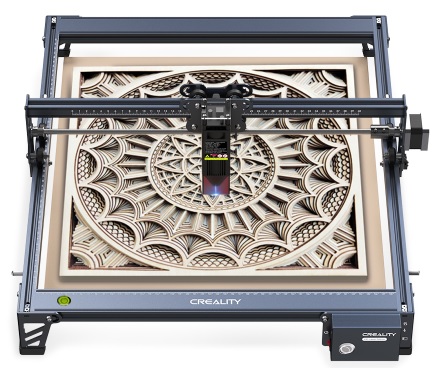 CV-30 Falcon Laser Engraving machine (10W)
44,500
Taxes Included | Free Shipping
0.06mm High Precision. 12mm One-pass Cutting. Easy Operation
---
---
1. 0.06mm Compressed Spot for Engraving: The improved 6 lens array compresses the focal spot to only 0.06mm. It will deliver more details in your engravings.
2. Stronger to Cut and Engrave: Enhanced 10W laser, easier to cut through thicker materials. It engraves obvious patterns on objects as hard as stainless steel.
3. One-button Operation: In the offline working state, a single button to preview, start, pause or stop engraving. The integrated LED indicator will signal the status clearly.
4. 3 Steps Focusing: Loosen the laser module screw, slide the module, until its protective cover touches the focus block, and tighten the screw.
5. Quick to Assemble: 60% of the components are modularized for easier assembly.
6. Offline Engraving: Import a file via a TF card. Use it indoors, outdoors or anywhere you like without connection with a computer.
7. Larger Workspace: With 400x415 workspace, it allows users to process a larger piece of material at a time.(Optional raisers)
8. Able to Engrave and Cut Various Materials: Flexible materials: paper, cloth, leather, fabrics, etc. Materials of average hardness: wood, bamboo, acrylics, ceramics, etc. Materials of high hardness: matte stainless steel, painted metal surface, anodized surface, dark metal surface, etc.
9. Extensive Compatibility: Software: LightBurn, LaserGRBL File Format: SVG/PNG/DX/TIF/BMP/PDF/NG Operating System: Mac OS/Windows
10. Leading in Motion Stability-oriented drive: 32-bit chip, silent mainboard and self-developed algorithm to drive the steppers in x and y axis precisely, synchronously and quietly.
11. Stable and robust structure: 8mm shaft instead of the ordinary 6mm shaft, and L-shaped anti-slip rubber tripods, enhancing stability in the structure.
| | |
| --- | --- |
| Spot Size : | 0.06 mm |
| Cutting Thickness : | 0-18 mm |
| Optical Power : | 10W |
| Engraving Speed : | Max. 10000 mm/min |
| Light Source : | Semiconductor Laser |
| Output Voltage : | DC 24.0V 3.0A |
| Engraving Depth : | 0-10 mm |
| Laser Wavelength : | 45545 nm |
| Engraving Precision : | 254 dpi |
| Engraving Area : | 400*415 mm |
| Input Voltage : | 100-240 V 50-60 Hz |
| Slicing File Format : | svg.png.jpg, jpeg,bmp, dxf |
| Support OS : | Windows / Macos |
| Engraving File Format : | .gcode (after slicing) |
| Slicing Software : | LaserGRBL, LightBurn |
| Applicable Materials : | Cardboard, Wood, Bamboo clappers, Rubber plate, Leather, Fabric, Acrylic, Plastic, Metal |
Creality

Laser Engraver

Black