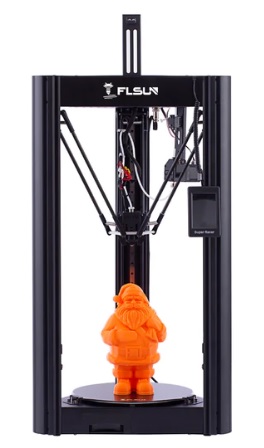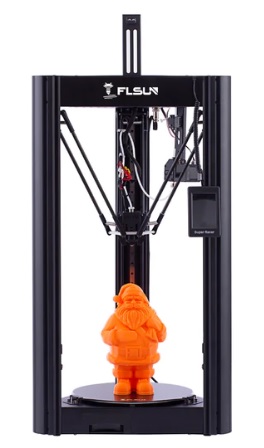 Refurbished Super Racer (SR)
35,399
Taxes Included | Free Shipping
Note :- "The products are used with minor scratches but there is no issue in the working of the products. All the goods once sold cant be returned, and is sold on "as is where is basis."
SR is the latest delta architecture 3D printer completely independently developed by FLSUN.
---
This Product is Out Of Stock......
---
Removable bed: The diameter of the hot bed is 270mm, the printable range is 260mm, and the uniform lattice coating is attached to the surface to make the printed model is easier to paste on the hot bed. The lattice glass and aluminium plate are fixed separately, which is convenient for cleaning, maintenance and disassembly. The hot bed can heated up to 100C and it has a good adhesion effect whether it is printing PLA or ABS. When the hot bed is cooled, the adhesion on the surface of the hot bed will be greatly weakened, so that the model can be easily removed.
Volcano Hot End:_ Volcano hot end with high melting effeciancy. Two turbo fans and one cooling fan are installed on the hot end. The powerful cooling system can avoid nozzle clogging.
BMG Extruder:_ Dual driver BMG extruder, better support for flexible filament and PLA, etc
Liner Rail Guide:_ Precise liner guide with 10MM belt, strong rigidity and highly precision with 48mm lager torque, high speed, low noise, high precision stepper motor, it not only guarantees the movement power, but also guarantees the high speed printing accuracy.
Parallel Arm:_ 3K high-strength carbon fiber parallel Arm, double spring structure, can still ensure accuracy and stability during high speed movement. Modular design, no tool are required for assembly and disassembly.
TMC2209:_ SR uses 4TMC2209 motor drive blocks. TMC2209 build-in MOS supports a maximum current of 2.8A, good heat dissipation. Excellent performance in mute, anti-shake, sensories torque delection, current dynamic adjustment, etc.
Auto Leveling:_ SR uses FLSUN's self-devlopment Auto-Leveling algorithm to compensate mechanical error through multiple point. The entire leveling process can be completed in three simple steps, and the leveling accuracy is 0.05mm
Firmware:_ Based on Marlin 2.0.6, self-devloped open source firmware support the functions of power interruption resume and filament interruption detection, 3.5-inch smart capacitive touch screen, newly designed UI interface, optimized operation logic and user habits, supports 8 display language switching, and has one-key restore to factory settings function.
Slice Software:_ CURA4.4 slicing software is included in the SD card. The slicing software including two modes: basic mode and expert mode, which can meet the needs of beganers users and professional users with different precision and difficulty printing setting Cura4.4 support USB connection, you can connect your laptop via USB and send it directly to the printer to start printing after slicing.
| | |
| --- | --- |
| Product name : | Super Racer |
| Product condition : | Refurbished |
| Print speed : | 150mm/s-200mm/s |
| Molding Tech : | FDM |
| Power : | 300W |
| Nozzle Temp : | s260°C |
| Nozzle Type : | Single Nozzle. |
| Slicer Software : | Cura/Repetier/etc. |
| Nozzle Diameter : | 0.4mm |
| Filament Detection : | Yes |
| Bed Temp : | s100 |
| Filament Diameter : | 1.75mm |
| Resume Printing : | Yes |
| Tnput Voltage : | 115-230V |
| Print Size : | 260 260*330mm |
| Filament Support : | PLA/ABS/PETG |
| Type Leveling : | Auto-leveling |
| Working Model : | SD Card/USB |
| Mouth Type : | Single nozzle |
| Firmware : | Open source Mariin |
| Output Voltage : | 24V |
| Machine Size : | 440 |